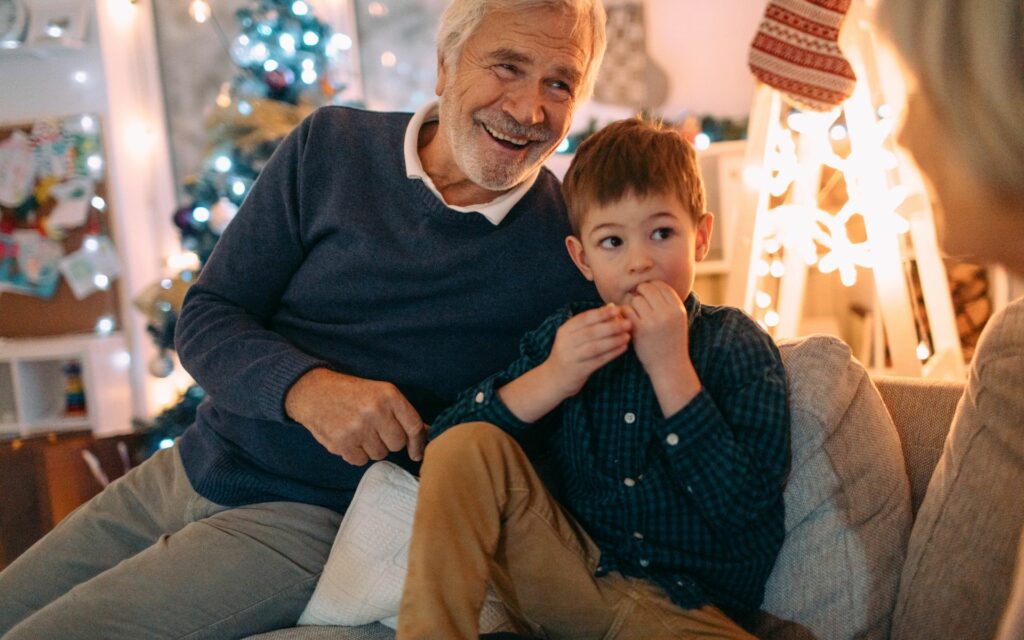 The holiday season is upon us again, and while it's filled with joy and family, some seniors may feel isolated and disengaged. Did you know that 25% of Canada's aging population (over 65) live alone? The holidays are usually a time for gatherings, family, and changes in routines, and all of these can be unsettling for seniors living alone or away from their families.
In this article, we're sharing our top 6 tips to support senior relatives or seniors in your community during the holiday season.
1. Actively listen
Everyone wants to be heard and understood, especially isolated seniors. Be an active listener, whether you're listening to their stories from the past or talking to them about the holidays today. Let them lead the conversation and focus it on them as much as possible. If they ask to hear your stories, keep them short, then redirect the conversation back to them as much as possible.
Really listen to everything they're saying without judgment. If they communicate negativity or negative feelings, don't dismiss them. Ask them to explain more about it and what you (or someone else) could do to give them the support they need.
A great way to show them you're listening is to ask related follow-up questions. For example, if they begin talking about how much they miss their children visiting for the holidays, ask them about what holiday traditions they used to do as a family.
If they say something that makes you feel concerned for their physical or emotional wellness, don't be afraid to seek help from a nurse or care aid.
2. Share photo albums
Christmas is a popular time to reflect on the past. For those with memory issues like Alzheimer's or Dementia, this can be hard because they don't remember the past. Bring out some old photo albums and talk about the photos. Talk about each picture and let them tell you about the ones they remember.
You can also share some of your newer photo albums so they can see what your family has been doing lately. This is a fun way to involve them in your life when they can't physically come to your kid's soccer games and Christmas concerts.
3. Create a sense of purpose
Sometimes a break from routines is just what our seniors need. Give them a sense of purpose this holiday season by engaging them in activities they might enjoy. You could:
Help them decorate their room, home, or the care home
Do some holiday baking together
Share in a holiday craft (if they like knitting, do knitting together)
You are giving them something to get excited about. If they struggle to get out of bed, giving them the expectation of something fun that day can help.
4. Check if they have additional support
Do they need any additional support over the holidays? If they are religious, perhaps you can contact a local church or mosque to see about having them bring some cultural activities and traditions to a care home.
If you know of a senior who usually has regular support from a family member, but the family member is going away for the holidays, see about bringing in some respite care or daily phone check-ins from a friendly nurse or care aid. These daily or several-times-a-week visits can help ensure the senior is staying healthy, keeping their house in order, and getting the socialization they need to keep their spirits lifted through the holiday season.
5. Be mindful of their diet
This is actually a tip for everyone during the holidays, seniors included. Be mindful of how much fun, sugary foods and beverages they consume. It's always fun to indulge a bit during the holidays (we know how therapeutic candy cane ice cream can be). But make sure your senior family members are still eating and drinking healthily.
If needed, consult with their care provider to ensure any dietary restrictions and intolerances are considered. For example, a diabetic patient may overindulge in sweets, and their blood sugar can spike. Don't be swayed if the senior says, "oh, just one more sugar cookie won't hurt," if you've heard otherwise from their care team.
The same applies to alcohol consumption too.
6. Keep holidays simple
The holidays can be an overwhelming time for many reasons. If you know a senior who gets overwhelmed this time of year, keep the holiday celebrations simple. Even just a great conversation is enough to provide the socialization they crave.
If they're worried about gift-giving, remind them that it's not necessary. If they insist, consider suggesting they offer experiential gifts like lunches at a favourite restaurant or a game night at home.
Another great idea, if they are able, is to volunteer somewhere together to give back a little holiday cheer. Perhaps they could knit some warm hats and scarves to donate to a local women's shelter or create homemade holiday cards for first responders in their community.
Other festive ways to provide fabulous Christmas for seniors
Another festive way to support seniors in your community is through the Stocking Stuffers for Seniors program at London Drugs. Visit a local London Drugs store and pick up a wish tag from a local senior. Purchase this non-wrapped gift and drop it off with the wish tag at the customer service desk at London Drugs.
Call your local retirement living community and ask about holiday visiting or volunteer opportunities. If you have a well-behaved pet, some care homes allow you to bring them to visit with the residents.
Stay connected and healthy this holiday season
By following our 6 tips, you can help a senior feel engaged, connected, and joyful during the holiday season. We challenge each person in BC to reach out to a senior in their community this holiday season to provide support. Sometimes, isolated seniors just want to be around the holiday cheer, and you can bring that to them with only a small investment of your time.
If you need extra support for an aging loved one living at home, ask about our companionship and home care services today. We have openings available throughout the holidays to help bring joy to the lives of seniors and others in our community.
Contact us for a free in-home care consult today.