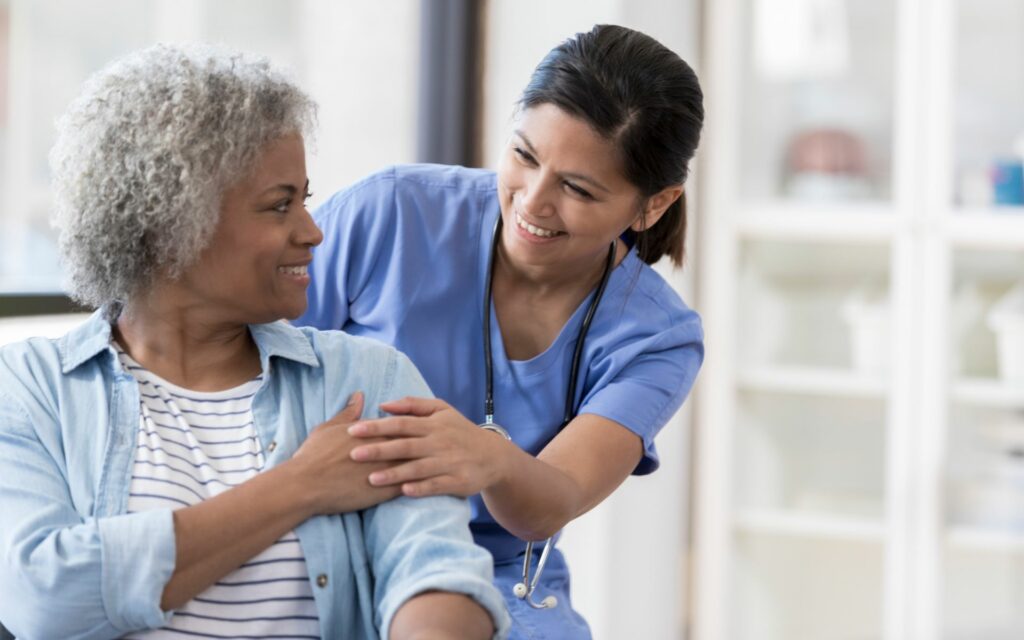 When your loved one needs more care than you can provide, you may start researching the difference between home care vs. a long-term care facility. Which should you choose?
There are benefits to both, and situations when one is better than the other. Below, we highlight some differences between receiving home care and moving into a long-term care home.
How do you know you need extra care for your loved one?
Not everyone needs to hire a caregiver or health care support. However, it can be helpful for a patient when:
Doing daily tasks is made difficult or impossible due to injury or illness
Recovering from surgery or a medical procedure
Need medical care or companionship, but don't want (or can't afford) to move into a care home
Other physical or mental impairments impact their day-to-day lives and comfort
You may want to provide their care as their family member or friend. Here are some examples of when you may want to hire health and care support:
When your loved one has complex medical needs you can't meet on your own
When you go away or are unable to provide support
You are physically unable to support their mobility or health needs
You don't live close to the loved one
You want to ensure they have around-the-clock care when you're at work or at your own home for the night.
You need someone to check in on your loved one to ensure they follow their health care instructions.
Once you decide you need support, you must look at your needs, doctor's recommendation, and budget. Then you can choose between hiring in-home care or moving into a care facility to get the support your loved one needs.
What is home care?
Home care support is when medical and home support services workers come and provide medical, domestic, or companionship care in your home. They can help with your daily living activities such as cooking meals, mobility and exercise, grooming and toileting, and providing prompts to assist with their daily tasks. They can also provide nursing care, rehabilitation tasks, or respite care.
Home care is for individuals who want to remain independent in their home, but require extra support to carry out their daily activities and health. It's also sometimes an option for end-of-life or hospice care if the patient is medically able to stay at home.
(Home care support is what Hero Home Care provides. We're your one-stop solution for taking care of your loved one at home)
What is a long-term care home?
Long-term care services provide 24/7 professional care in a healthcare or living facility. Your loved one usually lives at the facility in their own or shared accommodations with other patients. They receive medical care, nutrition and exercise, social activities, and any support for day-to-day living. Many are all-inclusive, while some may offer paid service upgrades.
Long-term care is for individuals with more complex healthcare needs that can't be safely managed from home with home care support.
Cost
With in-home care, you pay for what you need. If you only need a 2x per week visit for two hours each, that's what you pay for. If you need 12-hours of daytime care, that's what you pay for. If you only need someone to call your loved one daily to check in, chat, and remind them to take their medication, that's what you pay for.
In a care home, the care packages are often less flexible and will also include meals and accommodation. That means you'll be paying much more and potentially more than you actually need in some cases.
Accessibility
If your loved one struggles to get around due to illness, injury, or natural aging, a care home will likely already come with accessibility features such as ramps, elevators, and bathtub handles or rail supports. To remain in your home and keep your independence, you may need to have these items installed or have around-the-clock support to stay mobile and safe in your home.
Comfort
Healing is often faster and more comfortable when the patient is at ease. This happens at home much easier than in a care home or hospital.
Home is a place where many people feel safe. They're familiar with their home and know which floor creaks are normal and which are not. Long-term care homes are often quite clinical in nature, and while they attempt to humanize the space, at the end of the day, it's a "hospital" and will never be as comfortable as your loved ones' home.
Familiarity
A care home has a rotating roster of caregivers, doctors, nurses, and support staff. You may not see the same people every day, so forming relationships or bonds with caregivers becomes hard.
You can often request the same caregivers for each visit with in-home care. This helps your loved one get to know the caregiver on a less-clinical level and vice versa. It creates a sense of familiarity and minimizes any changes in routine, which can be challenging for some patients to manage.
Personalized Care
Long-term care facilities often have dozens of patients to care for. Expediency is often a necessity so they can provide at least basic health care for each patient. They do their best to provide personalized care to each patient, but it can sometimes be challenging.
Home care provides a space for individual attention. Your loved one's in-home caregiver isn't going to run to another more emergent patient. They are with your loved ones as long as needed to ensure they get the care they need. There are no distractions from other patients.
Which is better: home care vs. long-term care facility?
Is home care better than a nursing home? In many respects, it can be, but it's a personal decision. There is no one answer to this question because there are times when living in a long-term care facility with around-the-clock medical care and equipment is better for your loved one.
However, we generally find many people choose in-home care for its cost savings and flexibility. If your health situation changes, in-home care can often more quickly accommodate you, whereas a care home may be limited in scope or availability of services.
Ultimately, you should visit several care homes and talk to in-home care providers before deciding. Your primary healthcare doctor can also recommend if in-home care is right for you (from a medical perspective). Then you just need to determine what options work best for you and your loved ones.
Need help making this decision? Give us a call and we can answer any questions you have about in-home care for your loved one and how we can make it work for you. Contact us today for a FREE In-Home Care Consult or a chat.