When the going gets tough, a hero steps up.
Our philosophy is simple. We hire heroes, not just caregivers. Whether it's companionship or in-home nursing (or something in-between), Hero Home Care has a hero for you. Our experienced team of Nurses will take the time to understand the health, home and social care needs of your loved one and design a personalized home care solution that meets their needs and provides peace of mind for you and your family.
Why Choose Hero Home Care?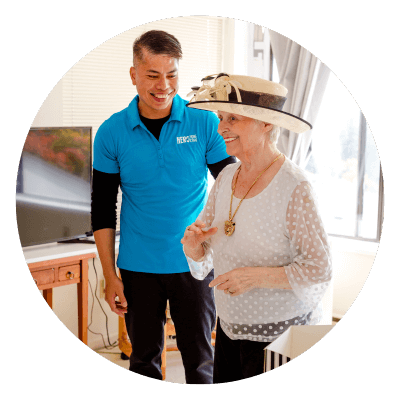 Our Heroes
We don't just recruit caregivers, we hire heroes. Every one of our caregivers is hero approved and offered a living wage, health benefits, and ongoing training and development opportunities. We take care of our heroes so they can take care of you.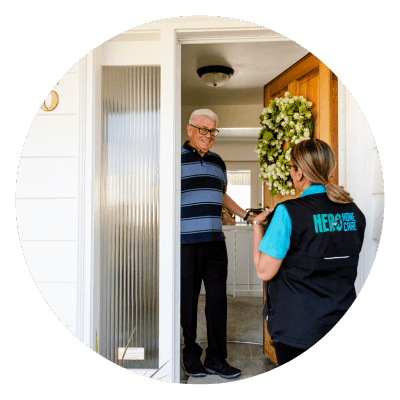 Nurse Care Management
Every customer is assigned a dedicated Nurse Care Manager to oversee the health and wellbeing of our customers. This includes supervised visits, home safety assessments, Care Plan development and oversight, and regular in-home caregiver training.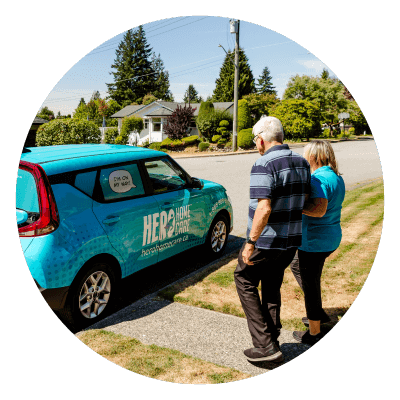 24/7 Access. 24/7 Service.
We don't sleep so you can. Hero Home Care offers daily and overnight care as well as 24/7 emergency on-call support. We offer our customers access to our virtual family room giving them live access to their schedule, invoices and our care support team.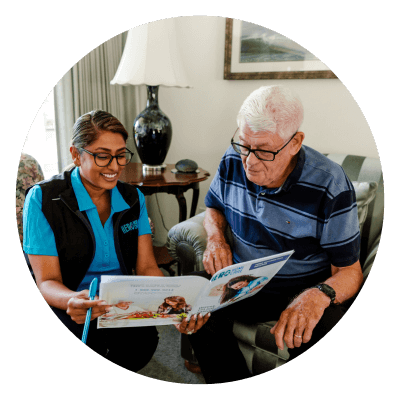 Virtual Care Platform
Every customer will have access to our Virtual Care Platform giving them and their entire family access to our family doctor, our virtual pharmacy and our network of healthcare professionals as well as unlimited video calling with their loved ones.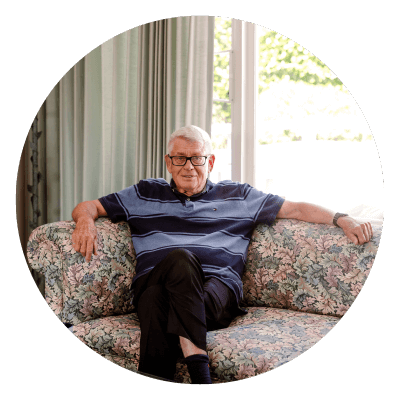 Scheduling & Care Coordination
We take care of all scheduling and care coordination so you don't have to. Through our industry-leading home care software we are able to match your loved ones with the perfect caregiver, ensure they arrive and depart on time, and track in real-time the completion of tasks.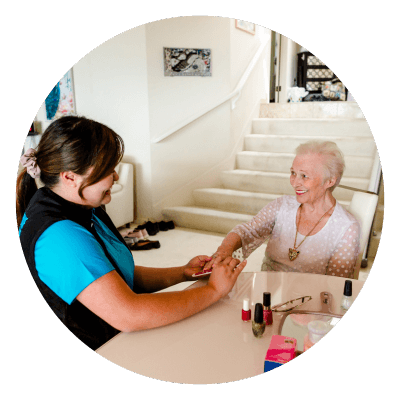 We Go Above & Beyond
Our customers are like family to us, and like family we go above and beyond to make them happy. From preparing their favorite meals to replacing the elastic waistband in their favorite pajamas (true story), our heroes go the extra mile to bring a smile to our customers' faces.
Getting Started
1
Contact Us
---
Looking for help, but don't know where to start? Give us a call anytime to book your free in-home Care Consult.
2
Free Care Consult
---
Our Care Manager will meet with you and your family for a free in-home Care Consult to design your personalized home care solution.
3
Meet your Hero
---
We will match you with a hero based on your needs, personality and preferences and be there to introduce them to you at your first visit.
Our Services
Our experienced Nurse Care Managers will work with you and your family to develop a personalized home care solution that can range from only a few hours a week to as many as 24 hours per day. Browse from our suite of services and give us a call if you have any questions or would like to get started with a free in-home Care Consult.
Our Trusted Community Partners
In order to create healthy communities, we need to work together. Hero Home Care works closely with our local hospitals, health care professionals, and various community groups to deliver seamless care to those in need. Hero Home Care is proud to be a trusted home care provider for a number of community organizations including Vancouver Coastal Health, Community Living BC, ICBC, and WCB.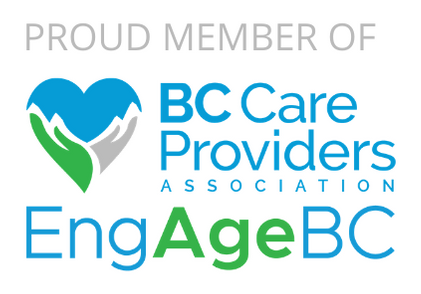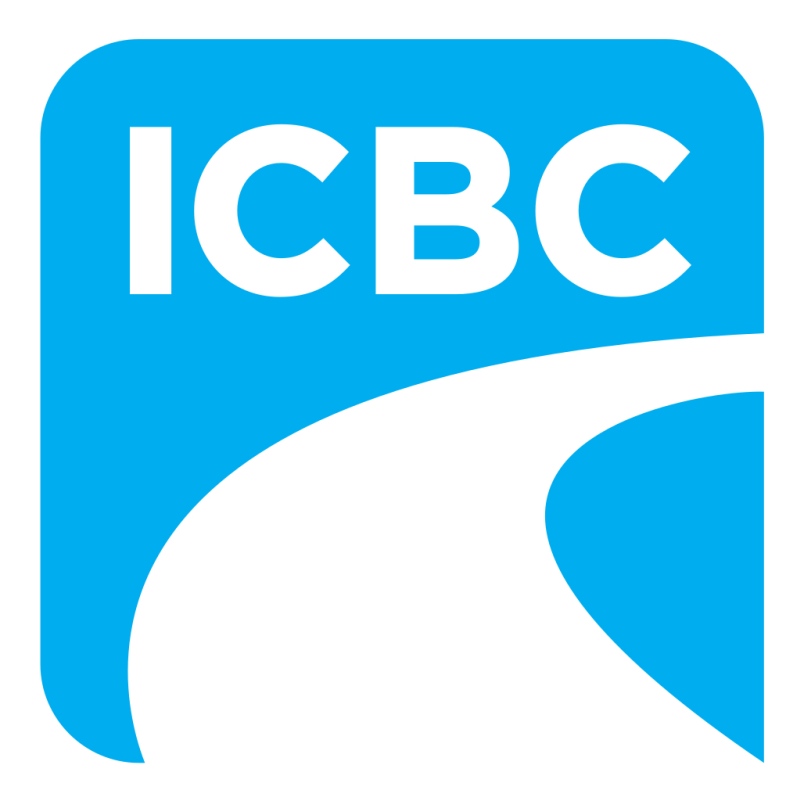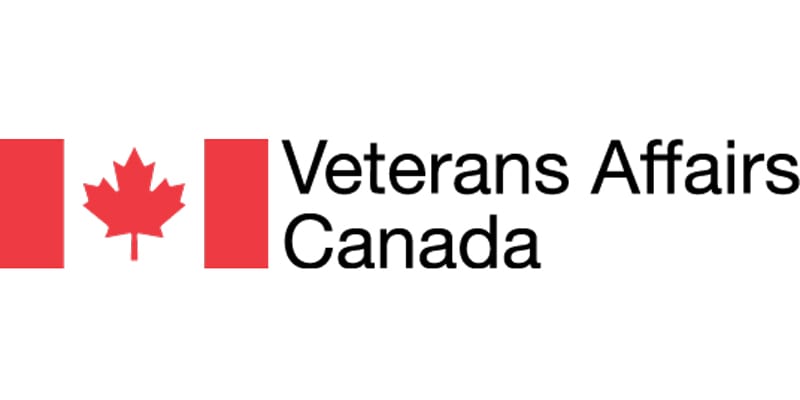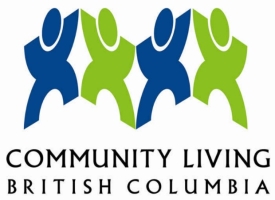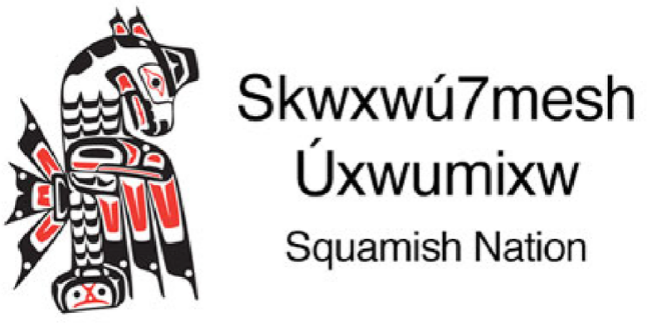 See What our 3000+ Customers Are Saying
Your help has come in many forms for both my mom and I. It's difficult to describe the relief I have felt since hiring your Hero Home Care. You have taken so much pressure from my shoulders.
---
Anita C, Daughter
I wanted to take this opportunity to extend our sincere appreciation and thanks for your outstanding support over the past few weeks in the care of my mother and father.
---
Sue W, Daughter
The matching of the nurse with my husbands condition has made a world of difference in his demeanour. He looks forward to the visit with happiness. The nurse is exceptional.
---
Sharel D, Daughter
Frequently Asked Questions
What is involved in a Care Consult?

A Care Consult is an in-person meeting with one of our Care Managers to better understand your health, home, and social care needs, and help you navigate the world of home care. In addition, our Care Managers will provide a home safety assessment free of charge to ensure you are living in a safe and risk-free environment. This Care Consult can take place in your home or in the hospital and usually takes between 30-40 minutes. There is no charge for this visit and no obligation to sign up for any service afterward.
Where do you find your caregivers?

We have an entire team dedicated to finding, interviewing and training the best caregivers in the world – literally! We receive applicants from caregivers and nurses from all around the world with varying skills, experience and personalities wanting to join our team. Each applicant is put through a rigorous screening process, including multiple interviews, record and health checks, skill testing, and in-person training to ensure we are only hiring the best of the best!
Are your caregivers employees or contractors?

All of our caregivers are employees of our business. This means we provide all the proper insurance coverage, workers compensation, payroll remittances and ongoing training and support so you don't have to.
Are your caregivers vaccinated for Covid-19?

Yes. We require that all of our caregivers are fully vaccinated. In addition, we require every caregiver to complete a Covid screening questionnaire prior to each visit that is reviewed by our Care Support team in real-time.
How much does home care cost?

Home care services can vary drastically based on a number of factors including your care needs, hours scheduled, location, and the agency you choose. This is why we offer a free in-home Care Consult to get the full picture before providing a quote. Generally speaking, the cost for caregiving services in the private home care sector can range anywhere from $35.00 to $75.00 per hour. This is why it is important to speak with an expert and make sure you are asking the right questions when comparing agencies.
Do you require a minimum number of hours per visit?

Based on your care needs and the services you are looking for, we have a number of different care options to choose from, some of which do require a minimum number of hours per visit. For example, our caregiving service has a 3-hour minimum callout. At the same time, we do recognize that every situation is unique so this is not always the case.